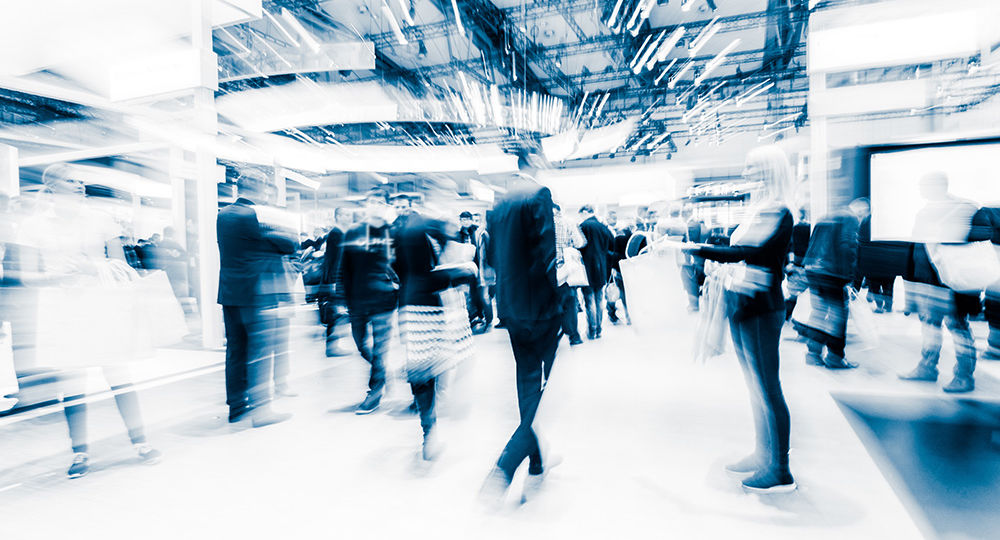 For many companies, trade show planning can be a hard and stressful time. It's all about being able to display, introduce, discuss, or demonstrate a product or service to other members of your particular industry. Most companies rely on trade shows to create exposure and raise awareness of long-awaited project launches. For trade shows to be successful and serve its purpose, companies must have eye-catching booths. A trade show booth is what draws people in and attracts them to your company. Your new product or service will not get the exposure it needs if people aren't initially excited about your booth. It is so important to stand out and create a fun and immersive experience for members.
The basic displays that are usually seen all over a trade show can be changed up by adding different ways people can view your company's information. Creating dynamic curvature viewing panels will still display all the information as necessary but in a more exciting way. The panels can wind around in different curves and shapes, making it intriguing to look at, rather than flat, two-dimensional panels. Another fun take on a booth could be a completely sustainable and green display. In today's generation, it is not only essential but also trendy to be "green." Creating an entire booth out of cardboard and recycled materials will make you stand out and get people talking. Using cardboard to create your booth, gives you room to make fun shapes and different rooms due to the lightweight and lower price of the material (playing in cardboard boxes, trade show style). During trade shows, there's often quite a bit of walking and an awful lot of standing (my back hurts just thinking about it). Incorporating places for people to sit will entice them to stay longer and actually get to know your company. I'm not saying to throw around some foldable chairs and call it a day… instead, make a friendly environment for people to sit and talk for a bit, it will really stand out to people, especially if their feet hurt (which I'm sure they will). Another fun idea that everybody, and I mean everybody will love, is offering some kind of snack or drink at your booth. You could take a simple route and offer some chips or candy in a custom logo bag, or you could incorporate a smoothie bike (yes, a smoothie bike). Booths that allow people to interact and be hands-on increases engagement and awareness of your company. Adding a smoothie bike will enable people to take a break and have a refreshment while also having fun. Essentially, a smoothie bike is a stationary bike with a blender attached to the front. When a person peddles on the bike, it turns the blades in the blender. Your booth can have simply frozen fruits in bulk that each person can choose personally. I can guarantee, people will be amazed by this concept (because who doesn't love smoothies and having fun?) Now that people are intrigued, rested, and having fun, we need to make sure your booth is beautiful to look at. There are so many ways to decorate and embellish a booth. Since many people today are always on their phones with their heads down, you could create a large sign for the floor with your logo. This will catch people's attention while also changing up the basic logo placement that most booths have. Having a logo built into the floor will create a minimal look and will leave room for booths that have limited space. There are so many options to create a booth that is nothing less than extraordinary; it just takes some research and thorough planning.
Join the AR Revolution By Signing Up For Placez!